Véritable naturel, sans DHA
Nous utilisons du bêta-carotène au lieu du DHA pour un bronzage doux et naturel, idéal pour les peaux sensibles..
Sans s'exposer
au soleil
Obtenez un hâle naturel sans s'exposer au soleil, avant, pendant et après l'été. Gardez un éclat doré toute l'année.
Une bonne
mine immédiate
Sa teinte abricot vous promet un effet bonne mine immédiat. En bref, c'est du pure glow en pot.
NOS ACTIONS
Exertier collabore avec l'Association Confidences d'Abeilles en créant des ruches dans la région de Savoie, au coeur des Alpes, pour augmenter le nombre d'abeilles locales.

En achetant nos produits au miel local, vous contribuez à la sauvegarde des abeilles dans notre région.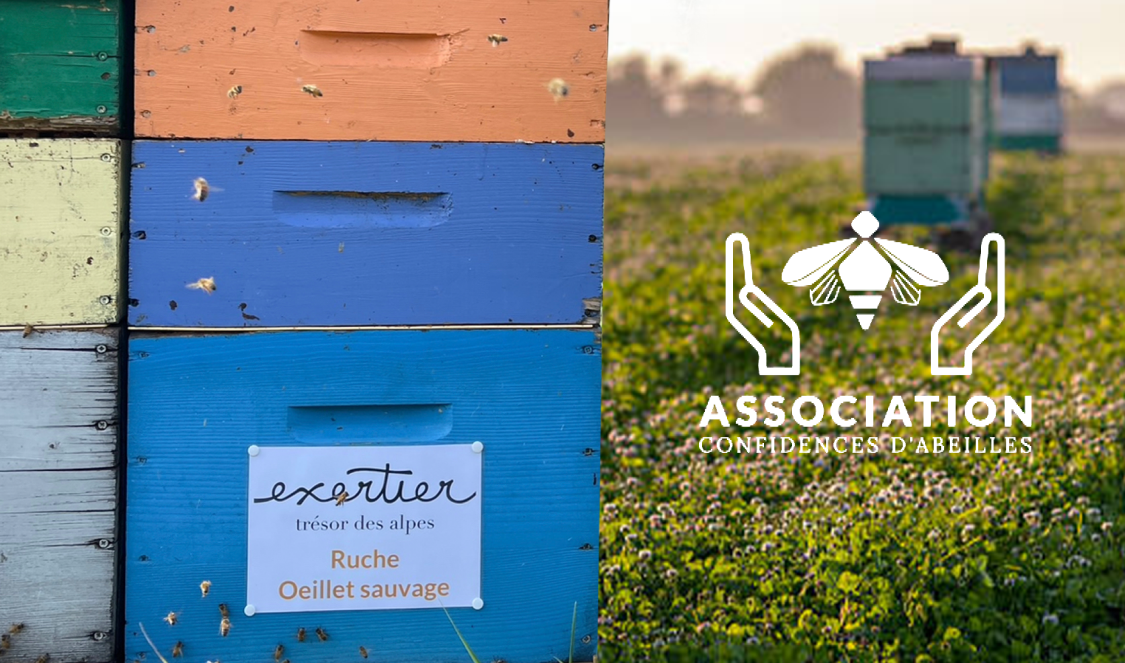 CARROT OIL
Carrot oil is ultra rich in beta carotene, which helps prepare your skin for sun exposure to tan more quickly and evenly.
It strengthens your skin and makes it supple. It is also a very good antioxidant.
HONEY FROM THE ALPS
Collected in the alpine farm of Losse, our honey from the French Alps is harvested with respect to our beegan commitments. We take care of the well being of our bees and produce a pure alpine honey which hydrates, nourishes, soothes, cures, and gives brightness to your skin.
SWEET ORANGE EXTRACT
Orange extract is the secret and natural ingredient that increases the production of melanin in your skin and naturally accelerates the tanning process. It is known to be a very good protector of your skin against external aggressions.
CONSEIL D'UTILISATION
Appliquer une noisette matin et/ou soir sur une peau propre et sèche. Le matin, n'oubliez pas d'appliquer une protection solaire en complément.
LE PETIT + DE L'ÉQUIPE
Soleil de Miel permet la prolongation du bronzage en toute sécurité pour un teint hâlé parfait. Elle est légèrement teintée et vous promet un effet bonne mine immédiat.
Questions fréquentes
Soleil de miel est-il une protection solaire ?

Non. Soleil de Miel est un soin hydratant qui améliore le bronzage. Il est impératif d'appliquer une protection solaire chaque matin pour vous protéger du Soleil. Soleil de Miel est le soin qui vous aidera à bronzer naturellement, en toute sécurité, tout en réparant les dommages que le soleil a pu causer sur votre peau.

J'ai la peau noire, puis-je utiliser Soleil de Miel ?

Vous pouvez utiliser Soleil de Miel. Ce soin hydratant est légèrement teinté, mais il ne s'agit absolument pas d'une CC crème ou d'un fond de teint. Soleil de Miel a été conçu pour améliorer le bronzage des peaux très sensibles. Les peaux noires, déjà généralement riche en mélanine, n'auront pas particulièrement besoin d'un tel soin. Nous vous recommandons plutôt notre Crème Légère ou notre Huile des Cimes, qui répondra aux besoins d'hydratation et de réparation de votre peau.

Puis-je utiliser ce soin sur le visage et le corps ?

Bien sûr ! Soleil de Miel est un soin conçu pour le visage et le corps.
Traceability
Exertier is dedicated to reducing the production cycle of your cosmetic products. We cultivate our signature ingredients at the Ferme de Losse, in Traize, Savoie. In this farm, everything is worked in permaculture.