Une douce
formule courte
Ce savon artisanal 100% naturel est composé d'huiles végétales saponifiées et de miel uniquement, avec un parfum discret de miel, sans plus.
Chouchoute votre peau sensible
Enrichi au miel, il chasse les bactéries et procure une peau douce, lisse et éclatante. Conçu pour le visage et le corps.
Adapté à toute
la famille
Enfants et femmes enceintes ou allaitantes, sans allergènes mentionnés, sans conservateur, sans huile de palme.
NOS ACTIONS
Exertier collabore avec l'Association Confidences d'Abeilles en créant des ruches dans la région de Savoie, au coeur des Alpes, pour augmenter le nombre d'abeilles locales.

En achetant nos produits au miel local, vous contribuez à la sauvegarde des abeilles dans notre région.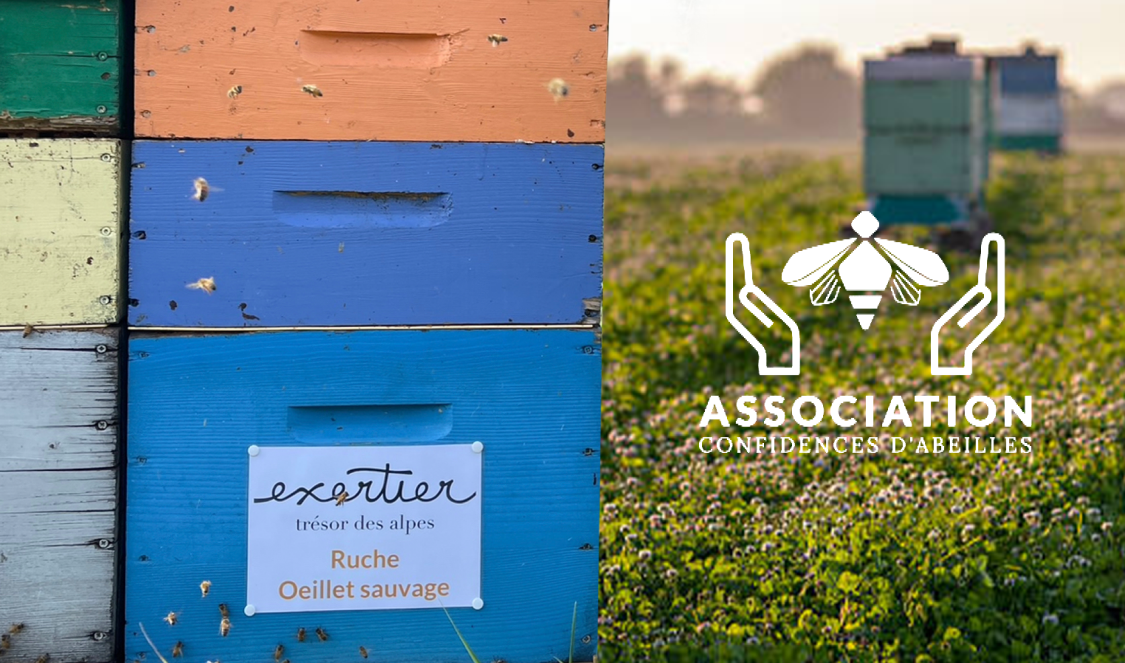 COCONUT OIL
Coconut oil helps to rebuild your skin's hydro-lipidic barrier. It is very nourishing and rich in fatty acids.
HONEY FROM THE ALPS
Collected in the alpine farm of Losse, our honey from the French Alps is harvested with respect to our beegan commitments. We take care of the well being of our bees and produce a pure alpine honey which hydrates, nourishes, soothes, cures, and gives brightness to your skin.
SUNFLOWER OIL
Sunflower oil gives your skin a natural glow and makes your complexion more radiant. It is also antioxidant thanks to its richness in vitamin E.
CONSEILS D'UTILISATION
Pour le corps et les cheveux, utilisez votre savon dès la 1ère minute de votre douche. Humidifiez votre peau, appliquez votre savon puis rincez. Pour le visage, utilisez votre savon avec de l'eau tiède. Pour le lavage régulier des mains, utilisez-le avec de l'eau froide.
LE PETIT + DE L'ÉQUIPE
La cerise sur le gâteau ? Son emballage est certifié FSC.
QUESTIONS FRÉQUENTES
Le savon est-il adapté à mon type de peau ?

Oui ! Le Savon qui sauve les Abeilles est un savon surgras très doux et riche en actifs qui convient à toutes les peaux. Le miel des Alpes que nous utilisons est d'une douceur sans pareil pour votre peau. Il s'utilise à tous les âges, du bébé à l'adulte.

Le savon peut-il être utilisé pour le corps et le visage ?

Oui. Vous pouvez utiliser ce savon comme soin quotidien pour le corps, le visage et voire les cheveux ! Grâce à ses ingrédients tout naturels, rassurez-vous de l'appliquer comme vous voulez.

Comment est-ce que je sauve 200 abeilles ?

Les abeilles ont besoin d'un refuge pour vivre, se développer et polliniser notre nature. Tous les 400 savons achetés, nous pourrons réintroduire une colonie d'abeilles noires des Alpes en la logeant dans une ruche évolutive qui peut abriter 80 000 abeilles. Ainsi, chaque savon acheté permet de réintroduire 200 abeilles dans notre belle région des Alpes !
Traceability
Exertier is dedicated to reducing the production cycle of your cosmetic products. We cultivate our signature ingredients at the Ferme de Losse, in Traize, Savoie. In this farm, everything is worked in permaculture.