Une texture
cocooning
Il procure un bien-être immédiat grâce à sa texture "cocooning" qui enveloppe la peau dans une bulle de douceur.
Une régénération nocturne
Au réveil, revitalisée, comme régénérée, la peau est visiblement réhydratée, adoucie et éclatante.
Répare les
peaux abîmées
Pendant le sommeil, la peau a "récupéré", apaisée, elle est plus forte et plus résistante.
NOS ACTIONS
Exertier collabore avec l'Association Confidences d'Abeilles en créant des ruches dans la région de Savoie, au coeur des Alpes, pour augmenter le nombre d'abeilles locales.

En achetant nos produits au miel local, vous contribuez à la sauvegarde des abeilles dans notre région.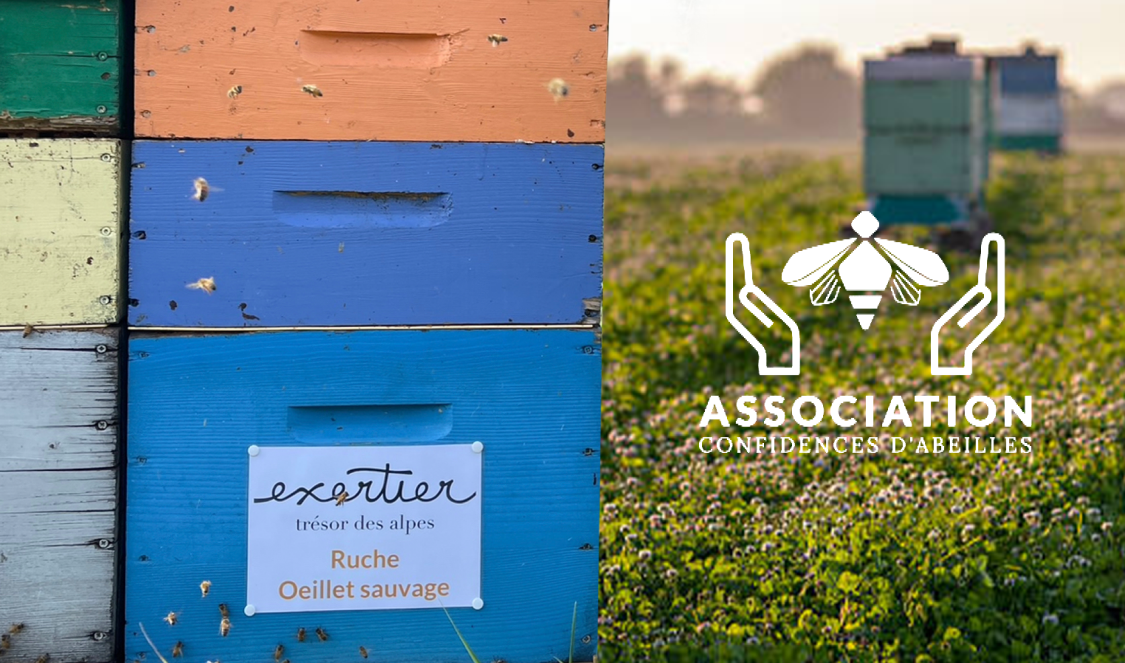 ORGANIC ROYAL JELLY
Derived from organic farming, it is composed of proteins, carbohydrates, vitamins and trace elements that deeply hydrate, reducing signs of fatigue and smoothing your skin.
HONEY FROM THE ALPS
Collected in the alpine farm of Losse, our honey from the French Alps is harvested with respect to our beegan commitments. We take care of the well being of our bees and produce a pure alpine honey which hydrates, nourishes, soothes, cures, and gives brightness to your skin.
SHEA BUTTER
Shea butter is rich in vitamins A, D, E and F and prevents skin dryness, supports cell renewal, softens and smoothes your skin while protecting it from external aggressions.
HYALURONIC ACID
Hyaluronic acid is naturally found in your skin. It is a powerful active ingredient, it can retain more than 1000 times its weight of water for a hydrating, plumping and firming skin.
ORGANIC ROSE HIP OIL
The organic rose hip oil provides antioxidant, repairing and cell regeneration benefits for your skin thanks to its richness in fatty acids and vitamins A and C.
CONSEILS D'UTILISATION
En Masque SOS : 2 à 3 fois par semaine, appliquer sur le visage et le cou en couche épaisse en évitant le contour des yeux. Laissez agir 15 minutes, puis rincez (idéalement avec un tissu doux réutilisable).
LE PETIT + DE L'ÉQUIPE
Vous pouvez utiliser votre Masque Soin comme masque de nuit : appliquer sur le visage et le cou en couche fine, à la place du soin quotidien, et laisser poser toute la nuit. 1 à 2 fois par semaine. Effet garanti au réveil !
QUESTIONS FRÉQUENTES
Combien de temps dois-je laisser poser le Masque Soin ?

15 minutes suffisent pour un bel effet sur la peau. La formule du Masque Soin est si douce pour votre peau que vous pouvez le laisser poser jusqu'à ce qu'il pénètre complètement votre peau, voire le laisser poser en masque de nuit. 

Puis-je utiliser le Masque si j'ai une peau à imperfections ?

Oui. Si vous utilisez des soins très agressifs pour le traitement de vos imperfections, veillez à rééquilibrer la protection naturelle de votre peau. Le Masque Soin peut vous y aider. Le miel est un ingrédient qui aide à la cicatrisation et qui assainit la peau.

Comment rincer le Masque Soin ?

Utilisez de l'eau claire tiède ou bien un tissu doux en coton bio. Sinon, laissez poser le masque toute la nuit.
Traceability
Exertier is dedicated to reducing the production cycle of your cosmetic products. We cultivate our signature ingredients at the Ferme de Losse, in Traize, Savoie. In this farm, everything is worked in permaculture.