3 produits en un seul tube
Ce lait au parfum délicat démaquille, nettoie et apporte de l'hydratation en un geste simple et rapide, avec un fini non-gras.
Une peau protégée et revitalisée
Les cellules de la peau sont protégées contre les agressions extérieures grâce à une combinaison d'actifs qui réactive le renouvellement cellulaire.
Haute tolérance visage & yeux
Sa formule douce est adaptée aux yeux et aux lèvres, parfaite pour les peaux déshydratées et sensibles.
NOS ACTIONS
Exertier collabore avec l'Association Confidences d'Abeilles en créant des ruches dans la région de Savoie, au coeur des Alpes, pour augmenter le nombre d'abeilles locales.

En achetant nos produits au miel local, vous contribuez à la sauvegarde des abeilles dans notre région.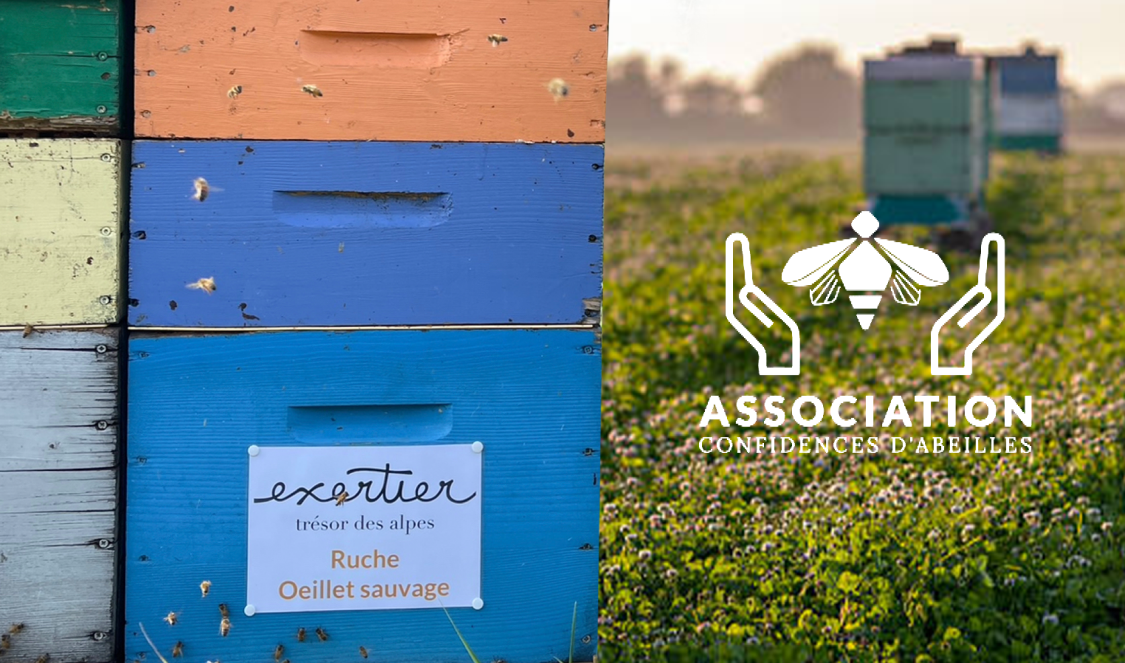 SHEA BUTTER
Shea butter is rich in vitamins A, D, E and F and prevents skin dryness, supports cell renewal, softens and smoothes your skin while protecting it from external aggressions.
ORCHID GOLD
A rare and powerful orchid, from the French Alps. This incredible active ingredient has been obtained by an exclusive extraction process, in order to preserve all the nutritive and anti-oxidant virtues of the plant. It acts on your skin as it does in nature: it nourishes, preserves, regenerates and protects your skin from external aggressions.
ORGANIC CENTELLA ASIATICA
Centella asiatica is a semi-aquatic plant rich in phytosterols, flavonoids and vitamin C, which make it a powerful repairing and decongesting active ingredient for your skin.
CONSEIL D'UTILISATION
Utilisez une noisette de votre Lait de Beauté et le massez sur peau sèche. Rincez à l'eau tiède claire pour maximiser l'effet du produit. Ce doux nettoyant convient pour le démaquillage de vos yeux.
LE PETIT + DE L'ÉQUIPE
Attention, petit secret d'équipe, utilisez votre Lait de Beauté comme masque hydratant et nutritif. Laissez poser 15 minutes ou jusqu'à pénétration du produit pour les peaux les plus sèches ! Peau douce assurée et rebondie assurée.
Questions fréquentes
Qu'est-ce qui rend ce lait 'multi-usage' ?

Ce lait a été développé pour que vous puissiez l'utiliser comme démaquillant, nettoyant et masque hydratant visage !

Quelle est la texture du lait de beauté ?

Ce lait est comme un beurre qui caresse votre peau. Il a la texture d'une crème fondante sur votre peau. Lorsqu'il entre en contact avec l'eau, il se transforme en un lait léger et fluide pour un meilleur rinçage.

Est-ce que le lait est adapté aux peaux sensibles ?

Oui, comme tous les soins Exertier ! Votre Lait de Beauté nettoie votre peau en la laissant peau souple et sans tiraillement.
Traceability
Exertier is dedicated to reducing the production cycle of your cosmetic products. We cultivate our signature ingredients at the Ferme de Losse, in Traize, Savoie. In this farm, everything is worked in permaculture.