Légère comme
de l'eau
Une huile sèche 100% naturelle facilement absorbée par la peau, sans fini gras.
Glow up en
une nuit
Ta peau fatiguée se réveillera éclatante, repulpante et hydratée !
Adoucir les signes de l'âge
Les ridules s'atténuent et les marques de fatigue s'estompent.
NOS ACTIONS
Exertier collabore avec l'Association Confidences d'Abeilles en créant des ruches dans la région de Savoie, au coeur des Alpes, pour augmenter le nombre d'abeilles locales.

En achetant nos produits au miel local, vous contribuez à la sauvegarde des abeilles dans notre région.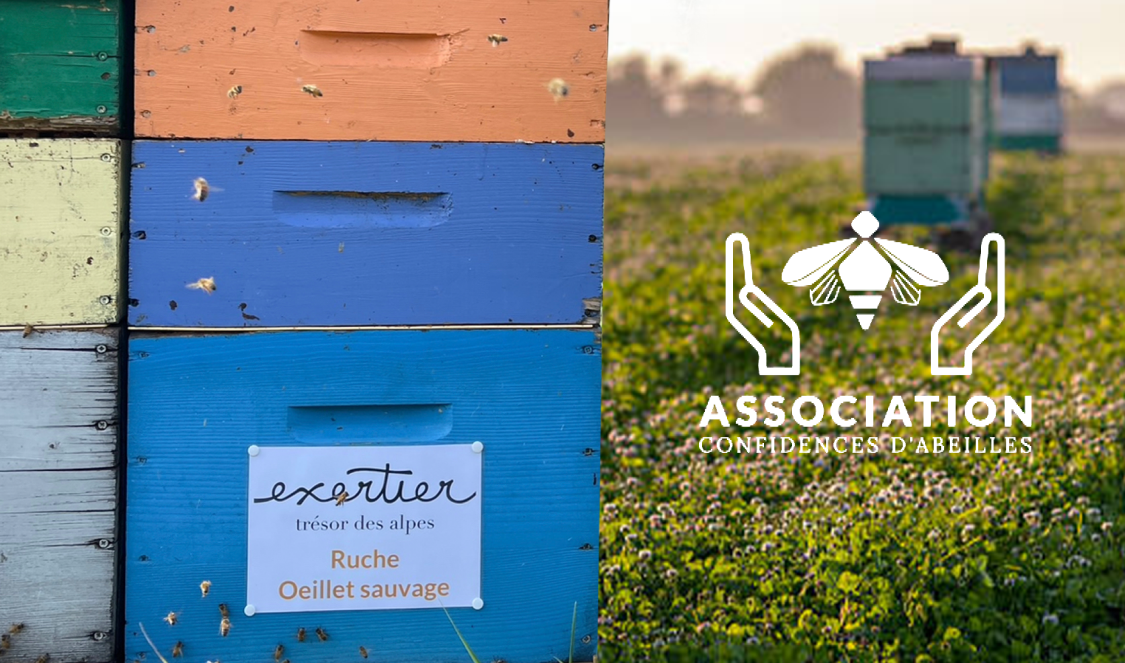 JOJOBA OIL
Jojoba oil is an natural ingredient known for its nourishing effect on your skin, preventing cellular aging.
HONEY FROM THE ALPS
Collected in the alpine farm of Losse, our honey from the French Alps is harvested with respect to our beegan commitments. We take care of the well being of our bees and produce a pure alpine honey which hydrates, nourishes, soothes, cures, and gives brightness to your skin.
BUTTERFLY LAVENDER
Butterfly lavender, as a delicate flower, instantly smoothes your skin and diminishes the appearance of fine lines. Your skin immediately looks more radiant and fresh.
CONSEILS D'UTILISATION
Étape 1 : déposer deux ou trois gouttes. Réchauffez-les entre vos paumes.
Étape 2 : lisser vigoureusement de la partie médiane du visage vers l'extérieur avec les paumes de vos mains.
Étape 3 : tapoter et presser vers le haut pour faciliter l'absorption.
*Évitez le contour des yeux.
LE PETIT + DE L'ÉQUIPE
L'Huile des Cimes peut être appliquée avant la crème comme sérum hydratant ou à la dernière étape de votre routine comme huile de soin selon votre préférence. Elle peut être utilisée matin et / ou soir grâce à sa texture légère.
Questions fréquentes
Cette huile laisse-t-elle un film gras sur la peau ?

Non ! L'Huile des Cimes est une huile sèche qui peut être absorbée facilement par votre peau. Il ne faut que peu de gouttes pour couvrir tout le visage.

Est-ce que cette huile est totalement naturelle ?

Oui. L'Huile des Cimes allie l'huile de Jojoba, notre Miel d'altitude et la lavande papillon pour redonner à votre peau toute sa souplesse et son éclat. Elle est donc moins grasse que les huiles classiques.

Comment doser l'Huile des Cimes ?

En général, 2 à 3 gouttes sorties de la pipette suffisent à masser le visage et le cou. Utilisation en booster de crème hydratante, 1 à 2 gouttes suffisent largement. Avec une utilisation quotidienne, le flacon devrait durer plus de 4 mois.
Traceability
Exertier is dedicated to reducing the production cycle of your cosmetic products. We cultivate our signature ingredients at the Ferme de Losse, in Traize, Savoie. In this farm, everything is worked in permaculture.
Learn more about our commitments.